This post contains affiliate links.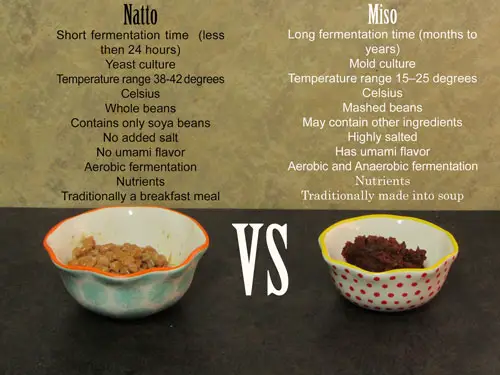 Both Natto and Miso are made from the same main ingredient, soya beans, and they are both fermented food products but that is where the similarities stop.
| Natto | Miso |
| --- | --- |
| Short fermentation time  < 24 hours | Long fermentation time (months to years) |
| Bacterial culture | Mold culture |
| Temperature range  38-42 degrees Celsius | Temperature range 15–25 degrees Celsius |
| Whole beans | Mashed beans |
| Contains only soya beans | May contain other ingredients |
| No added salt | Highly salted |
| No umami flavor | Has umami flavor |
| Aerobic fermentation | Aerobic and Anaerobic fermentation |
| Nutrients | Nutrients |
| Traditionally a breakfast meal | Traditionally made into soup |
Short fermentation time vs long fermentation time
Natto is made in less than a day
The beans are soaked for 3-5 hours until they are doubled in size then they are streamed or cooked in a presser cooker until they can be squished between two fingers.  Once they are cooked they are inoculated with a starter and incubated anywhere between 16-20 hours.
Once the fermentation time is over the beans can be refrigerated, frozen or eaten immediately although the flavor is better once it has aged 48-92 hours.
Miso can be made in a week to several years
When making miso it takes three days just to start the fermentation process.  The soya beans and rice or barley are inoculated in a controlled environment before they are mashed together and placed into aging tanks where they remain for at least a week to several years depending on the type of miso being made.
Yeast culture vs Mold culture
There is just one culture used to produce Natto
Natto is fermented with Bacillus subtilis which is a yeast culture which propagates through spores.  It is commonly found on grass especially straw. Natto used to be made by wraping hot steamed soybeans in straw and waiting a day. It is now made by using some finished natto as a starter or from spores of Bacillus subtilis.
There are several types of microorganisms which are required for the production of miso.
The first is Aspergillus oryzae, which is a mold used to produce the enzymes needed to convert the starches in the rice, barley or bean starter into sugars. Once Aspergillus oryzae has produced enough of these enzymes it is called koji. At this point the koji is mixed with the miso mash and a high amount of salt which slows or stops the action of Aspergillus oryzae. At this point lactic acid bacteria and the salt tolerent yeast Zygosaccharomyces rouxii take over the fermentation using the sugars produced by the enzymes from the koji for energy.
Warm temperature vs cooler temperature
Natto is fermented above normal room temperature in the range of 37-53 degrees Celsius.  For best results maintaining a temperature of 40-50 degrees Celsius is ideal.  This provides an environment for the culture to grow rapidly and dominate its environment giving little chance for pathogenic bacterial cultures to grow.
Miso fermentation is a multi-step process with varying temperatures which mimic the atmospheric temperature of the traditional fermentation time.
The first step is to make koji which needs a temperature of 28-38 degrees Celsius.
Next the koji is mixed with steamed rice and soya beans and fermented at about 10 degrees Celsius where it ages for a varying period of time depending on the type of miso.  Traditionally the miso would be kept in open air locations so as the ambient temperature fluctuated through the seasons the miso fermentation temperature would also fluctuate.
Whole beans vs mashed beans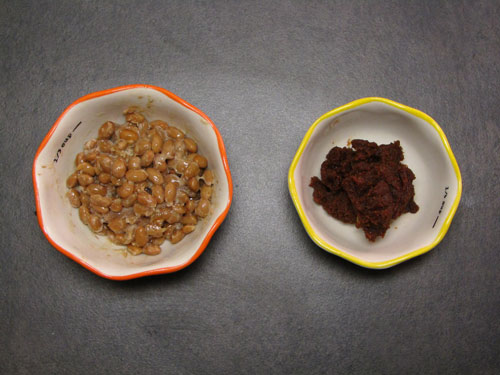 The preparation of the beans for both natto and miso is basically the same.
Soak the beans until they are double in size from the dried beans.
Steam or boil the beans until they are soft enough to squish between two fingers.
They begin to vary when the beans are inoculated with the starter culture.  For natto the beans are left whole and the bacillus subtilis has to penetrate the bean structure to find its energy.  This is why natto made with small beans is preferred to natto made with larger beans.  The bacterial culture has more surface area to grow on while the space between the beans allows adequate oxygen for the bacteria to multiply quickly.
If the beans were mashed the available surface area would be only the edge which is exposed to the air.  This would slow the fermentation down considerably and allow other cultures to take hold and grow.
Miso is made by mashing the beans and adding the culture to the mashed beans.  This provides the koji adequate contact with its food source to grow rapidly and dominate the culture.  Once the fermentation is complete the miso is a paste which is added to other dishes as a flavoring or condiment.
Contains only soya beans vs contains other ingredients
Natto is made with only soya beans with no added ingredients.  Although the bacterial culture which is used to make natto is also used to ferment other types of beans or seeds the resulting fermentation is not called natto.
Miso is made with a variety of ingredients depending on the type of miso being made.
Some popular miso types and thier base ingredients
| Miso name | ingredients |
| --- | --- |
| Shiro Miso or White miso | Soya beans and rice |
| Shinshu Miso or yellow miso | Soya beans and rice |
| Aka Miso or red miso | Soya beans and rice |
| Mugi Miso or barley miso | Soya beans and barley |
| Hatcho Miso or Mame Miso | Soya beans only |
Miso contains rice flour which is used to spread the culture evenly throughout the bean mash.  The technique for evenly mixing the koji into the mash is to inoculate some steamed rice with the culture and let it grow until it sporalates.
Once this happens the rice flour is mixed in and sifted out.  This will attach the culture to the rice flour which is then mixed in with the miso mash.
No added salt vs Added salt
Salt is usually used in fermentation recipes to prevent unwanted bacterial growth.  Such fermentations like sauerkraut, fermented vegetables and kimchi all use salt as a preservative while the intended bacterial culture grows.
Miso uses salt in a high percentage.  This is because of its long fermentation time with varying temperatures.  The salt inhibits the growth of unwanted molds which can give the miso an off flavor. 
Natto is a fast ferment and does not require added salt to prevent spoilage.  The culture Bacillus subtilis grows quickly when put into the proper growing environment preventing the growth of unwanted cultures.
Aerobic vs Aerobic and Anaerobic
Natto is an aerobic fermentation which means the bacterial culture which turns soya beans into natto need the presents of oxygen to grow.
The original method of making natto is to wrap the cooked soya beans in straw and store in a warm place for 24 hours or so.  No starter culture was added as the bacterial culture which makes natto is prevalent in nature, especially on straw and other grasses. The culture would grow rapidly in the presents of oxygen and insulated from the straw.
To make miso is a multi-step process which includes the culturing of koji, which is an aerobic process.  Rice is inoculated after it has been soaked and steamed and then fermented for up to 3 days.  The koji is then used to inoculate the rice and soya bean mash.  It is then packed into aging containers and sealed tightly to prevent access to oxygen.
Nutrient differences
Although Natto and Miso are both made from soya beans the nutrient content is vastly different.  In some cases Miso has a nutrient which Natto doesn't such as Beta Catotene and in other cases Natto has a nutrient which Miso doesn't such as Vitamin C.
They both contain the same amount of fiber at 19% of the daily value but vary widely in other cases such as the presents of iron makes up only 14% of the daily value whereas natto contains 48%.
To complicate the issue you need to take into account the normal serving sizes of miso and natto.  Miso is usually eaten as a condiment or in Miso soup and a serving of a tablespoon would be typical.  A tablespoon of miso weights approximately 17 grams well below the calculated 100 gram values below.
Natto is sold in 40-50 gram packages which is then added to rice for breakfast.
All calculations below are for 100 g serving size.
Miso
Natto
Nutrient
 Amount
 Unit
 DV
 Amount
 Unit
 DV
Alanine
0.5
 G
 
0.798
 G
 
Arginine
0.784
 G
 
0.909
 G
 
Ash
12.81
 G
 
1.9
 G
 
Aspartic acid
1.171
 G
 
1.956
 G
 
Calcium, Ca
57
 MG
4%
217
 MG
17%
Calories
198
 KCAL
 
211
 KCAL
 
Carbohydrate
25.37
 G
9%
12.68
 G
5%
Carotene, beta
52
 UG
 
0
 UG
 
Choline
72.2
 MG
 
57
 MG
 
Copper, Cu
0.42
 MG
47%
0.667
 MG
74%
Cystine
0
 G
 
0.22
 G
 
Docosanoic acid
0.05
 G
 
0
 G
 
Eicosenoic acid
0.025
 G
 
0
 G
 
Fat
6.01
 G
8%
11
 G
14%
Fiber
5.4
 G
19%
5.4
 G
19%
Folate
19
 UG
 
8
 UG
 
Folate, DFE
19
 UG
5%
8
 UG
2%
Folate, food
19
 UG
 
8
 UG
 
Fructose
6
 G
 
0
G
 
Glutamic acid
1.915
 G
 
3.337
 G
 
Glycine
0.447
 G
 
0.646
 G
 
Heptadecanoic acid
0.01
 G
 
1.168
 G
 
Heptadecenoic acid
0.03
 G
 
0
G
 
Hexadecanoic acid
0.75
 G
 
0
 G
 
Hexadecenoic acid
0
 G
 
0.031
 G
 
Histidine
0.243
 G
35%
0.512
 G
73%
Iron, Fe
2.49
 MG
14%
8.6
 MG
48%
Isoleucine
0.508
 G
36%
0.931
 G
67%
Leucine
0.82
 G
30%
1.509
 G
55%
Lysine
0.478
 G
23%
1.145
 G
55%
Magnesium, Mg
48
 MG
12%
115
 MG
29%
Maltose
0.2
 G
 
0
 G
 
Manganese, Mn
0.859
 MG
37%
1.528
 MG
66%
Methionine
0.129
 G
 
0.208
 G
 
Methionine + Cysteine
0.129
 G
12%
0.208
 G
20%
Monounsaturated fatty acids
1.118
 G
 
2.43
 G
 
Niacin
0.906
 MG
6%
0
 MG
0%
Octadecadienoic acid
2.479
 G
 
5.476
 G
 
Octadecanoic acid
0.2
 G
 
0.393
 G
 
Octadecatrienoic acid
0.405
 G
 
0.734
 G
 
Octadecenoic acid
1.043
 G
 
2.399
 G
 
Pantothenic acid
0.337
 MG
7%
0.215
 MG
4%
Pentadecenoic acid
0.02
 G
 
0
 G
 
Phenylalanine
0.486
 G
 
0.941
 G
 
Phenylalanine + Tyrosine
0.838
 G
48%
1.497
 G
86%
Phosphorus, P
159
 MG
23%
174
 MG
25%
Polyunsaturated fatty acids
2.884
 G
 
6.21
 G
 
Potassium, K
210
 MG
4%
729
 MG
16%
Proline
0.619
 G
 
1.403
 G
 
Protein
12.79
 G
26%
19.4
 G
39%
Riboflavin
0.233
 MG
18%
0.19
 MG
15%
Saturated fatty acids
1.025
 G
5%
1.591
 G
8%
Selenium, Se
7
 UG
13%
8.8
 UG
16%
Serine
0.601
 G
 
1.121
 G
 
Sodium, Na
3728
 MG
162%
7
 MG
0%
Sugars
6.2
 G
 
4.89
 G
 
Tetracosanoic acid
0
 G
 
0.031
 G
 
Tetradecanoic acid
0.015
 G
 
0
 G
 
Thiamin
0.098
 MG
8%
0.16
 MG
13%
Threonine
0.479
 G
46%
0.813
 G
77%
Tocopherol, alpha
0.01
 MG
 
0.01
 MG
 
Tryptophan
0.155
 G
55%
0.223
 G
80%
Tyrosine
0.352
 G
 
0.556
 G
 
Valine
0.547
 G
30%
1.018
 G
56%
Vitamin A
87
 IU
2%
0
 IU
0%
Vitamin A, RAE
4
 UG
 
0
 UG
 
Vitamin B12
0.08
 UG
3%
0
 UG
0%
Vitamin B6
0.199
 MG
15%
0.13
 MG
10%
Vitamin C
0
 MG
0%
13
 MG
14%
Vitamin E
0.01
 MG
0%
0.01
 MG
0%
Vitamin K
29.3
 UG
24%
23.1
 UG
19%
Water
43.02
 G
 
55.02
 G
 
Zinc, Zn
2.56
 MG
23%
3.03
 MG
28%
Traditionally a breakfast meal vs Made into soup
The traditional Japanese use for natto is as a breakfast meal.  Made up of warm rice, natto, soya sauce and chives.
Miso is used traditionally to make miso soup, used in sauces or as a condiment for main course meals.